Live checkout
Improve your
conversion rate at
checkout
Offer multiple and detailed delivery options to your customers! Engage with them during the cart checkout phase by:
Showing real time shipping rates for multiple delivery options
The nearest

pickup locations

of one or more carriers.
Start your free trial today - No credit card required
What's in for you?
Convert
more
Reduce Cart Abandonment Rate by letting your customers choose the delivery option that that best suits their needs.
Reduce your
shipping cost
Carriers usually apply a discount if you ship to a drop off point and there is no extra costs for undeliverable parcels.
Save
time
You don't need a developer, the integration with the most popular CMS is quick. This way, you won't need to touch a line of code.
Make checkout process set up easier
for you
Customize
your Map
Choose which carriers Drop off points could be visible simultaneously inside your Map
Customize your Map with different colors and layouts according to your brand identity
Embed it on your
custom website
Include live rates at checkout, your Drop Off Point Map or both in your custom website in a few clicks.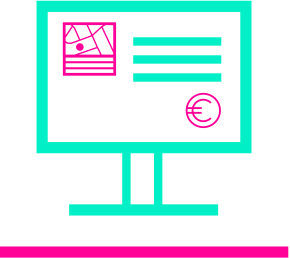 Pay
per Load
The module monthly fee is based on how many times your customers load your map at checkout.
The first 500 loads are free!
Make deliveries and returns more convenient for your customers
Help your customer understand at a glance the most convenient delivery and return option for them.
Live rates
Your customers can choose Delivery or Returns options based on real time pricing: your shipping rates are instantly retrieved and shown to your customers.
Pick up locations Map
If your customers choose to pick up their packages or to drop off their returns, they will quickly and easily identify the best location for them.
Postcode research
Your customers simply need to enter their postcodes to view the nearest pick up locations.
Large choice of pick up locations
If you wish to offer a choice between multiple carriers offering Drop off delivery, all their pick up locations would be visible for your customers.
Real distance and time
Your customers will automatically see how long it takes to reach the pick up location by car or by foot.
Opening hours and contact details
By clicking on each pick up locations, opening hours and contact details are displayed.
Make Returns easier for you and your customers
New
Include the Drop Off Point Map also inside your Return Process. This way your customers can choose the most convenient drop off location to return their items.
Option 1
Optimize your returns management process with a combination of Easy Return and Live Checkout modules
This way your customer can:
Submit the return request from a customized Return Form
Choose the return method that best suits their needs with the help of the Drop off Point Map.
ShippyPro will then send them the return label by email with return instructions.
Option 2
Include the Drop Off Point Map directly on your Return Process
Already have an optimized Return Process? Offer even more flexibility to your customers by letting them choose where to drop off their return.
Integrated with the most popular Carriers
UPS
Access Point
Colissimo
Point Retrait
Correos
Citypaq
Mondial Relay
Point Relais
NEXIVE
Nexive inZona
TNT Italy
Tnt Point
InPost
Locker Inpost 24
InPost PL
Parcel Locker
DHL Parcel
DHL Service Point
DHL Parcel NL
DHL Service Point
DHLConnect
Global Service Point
Relais Colis
Point Relais Colis
FedEx
Ship Centres
Poste Italiane
Rete Punto Poste
Colis Prive
Point Relais
DHL EXPRESS
DHL Service Point
Chronopost
Points Relais Pickup
Chronopost Portugal
DPD PT Pickup
Boxberry
Parcel Service
Correos Express
Puntos de servicio
MRW
MRW Points
Collect Plus
Parcel Drop Off
DPDUK
Local Depot
DPDLocal
Drop Off Point
DPD France
Relais Pickup
GLS
ParcelShop
B2C Europe
European Drop Points
ParcelForce
Parcel Collection
Swiss Post
Drop off parcels
Bpost
BPost Point
Spring XBS
Global Delivery Solutions
BRT
BRT - Fermopoint
Seur
Drop off Seur
Trusted by the world's most innovative businesses - big and small